2012 Oregon Fall Foray For:
Matsutake/ Porcini/ and Lobster/ Chanterelles, 30+ Species
Foray Info And Registration
This event will fill quickly, register today!
November 16th-18th, 2012
Kids under 10 are FREE!
Come and join Chris Matherly and Levena in Oregon for the 2012 Morel Mushroom Hunting Club's Matsutake and Porcini Foray and tour. We will find lots of prime Matsutake, as well as Porcini (King Boletes), as well as Lobster Mushrooms and Chanterelles, and other great edibles on this Foray! This is a once in a lifetime opportunity so make sure you register immediately, as it will be on a first come first served basis, and limited to the first 20 registrants. Click the following link to peak at least year's trip:
Matsutake Foray Scrapbook From Last year
View Previous year's foray video:
2009 Washington State Fall Foray 65 minutes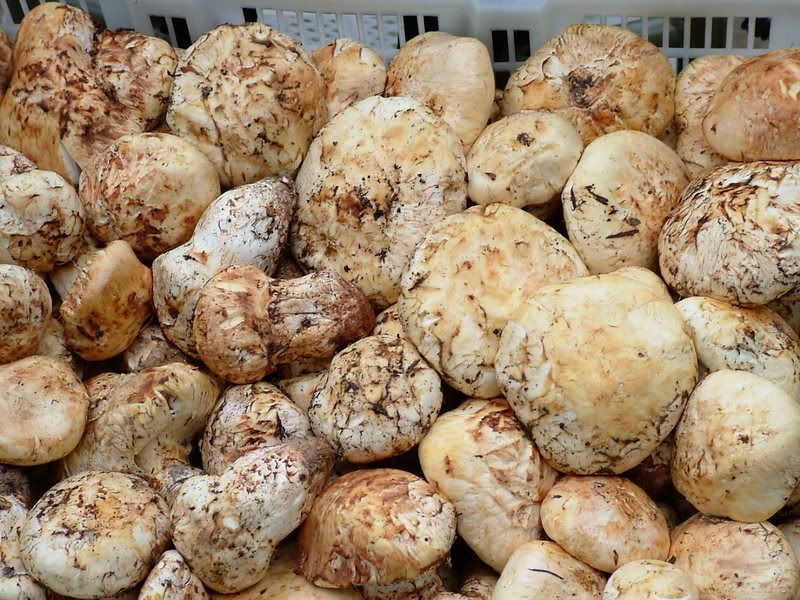 Tricholoma magnivelare
REGISTER NOW! FIRST COME FIRST SERVE BASIS.
Where: Sisters Oregon
When: November 16th-18th, 2012- including 2 days of Mushroom Hunting, and a big feast on the last day!
Deadline for registration: November 1st, 2012
**Restricted to the first 20 members who register.**
Requirements: Simply be a current member of the Morel Mushroom Hunting Club-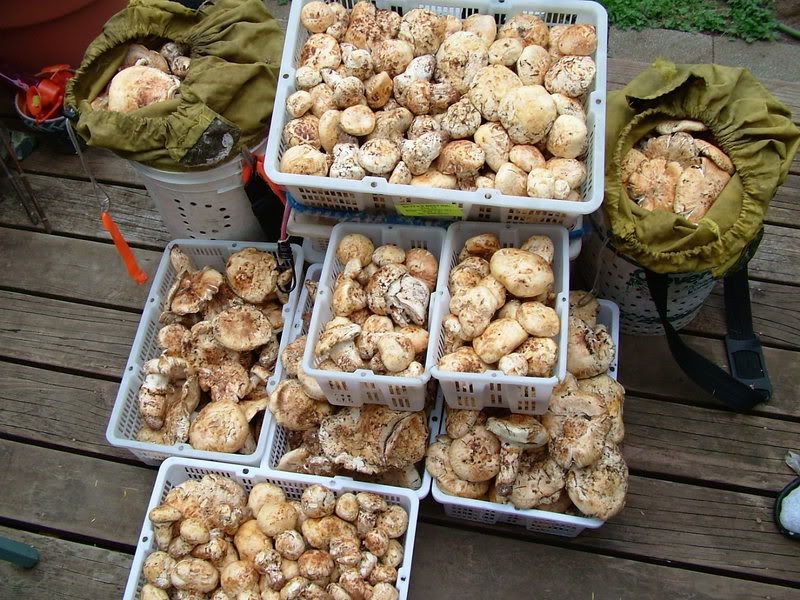 Foray Scrapbook From Last year
Itinerary:
Friday.
Meet and greet Friday 7:30 PM eve, and have a mushroom appetizer cooked by Chris Matherly.
Saturday-
8:30am. and on to 4:00pm guests will be be given hands on instruction on harvesting. Sandwiches and drinks are provided for lunch.
7:00pm. Cooking Demonstration and mushroom presentation..
Sunday
We again hunt, starting at 8:30 AM, Sunday 12:30 PM, a big Mushroom and steak feast! Grilled back at the cabins.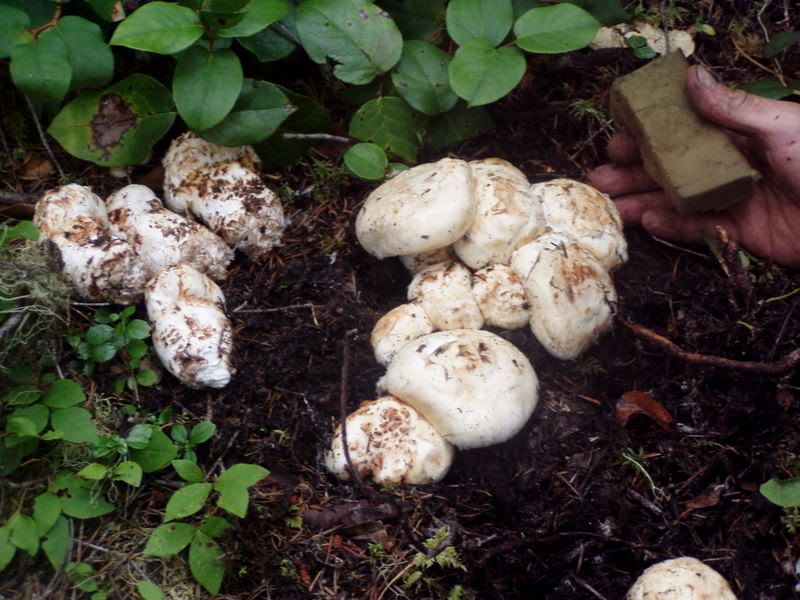 All Above Matsi Photos taken by Randy Marchand.
Registration fee is for the cooking demonstrations, T-shirts and DVD. The actually hunting is free and public is welcome. Each person is on there own to cover any permits required or day passes for the forest that we will be hunting in.
A gorgeous view of mountainous areas. Truly a Wilderness setting, and an unforgettable experience of a lifetime!
All lunches are included and drinks, I will do some cooking demonstrations each evening. The last day will include a huge Mushroom and steak Feast!
There are Cabins available near our hunting spots, or camping is also available.
Any necessary assistance in helping you with travel. It will be best to fly into Portland, as fares are best here. I have had prices as cheap as $250.00 from Atlanta.
A Special Wilderness Experience Morel Mushroom Hunting Club T-Shirt.
Celebration Feast- Steak and Mushrooms! (w/ a few unique Mushroom recipes)
And a video or DVD of our Mushroom Hunts and Festivities to Cherish for years to come!
Last Years Matsi-Pasta Dish!
The Food: (The meal alone would go for upwards of $75 per plate in a nice restaurant)
We first start off with a delicious appetizer- Stuffed Jalapeņos, with morels, cream cheese, bacon bits, and ramps or wild onions.
Then, we have a side-dish of a wild edible plant such as Poke or Nettles, something very unique and delicious.
Wild Mushroom Soup- This is my specialty, many have told me "this is literally the best soup I've ever had!"
Grilled steak, topped with mushroom sauce and finally...
Mushroom alfredo pasta! (Sometimes topped with fiddleheads)
King Bolete (Porcini)
Chanterelles
Lobster Mushroom
(Hunting is free and open to the public)
Please call me and I will take your registration right over the phone!
Please call me and I will take your registration right over the phone!
Regular price $225.00 Per Person
Special for the month of October- $175.00 per person! Call to register!
478-318-2794
If you have any special needs or requests, or any questions at all, please email me asap.
EMAIL me if questions.